Research trip to South Africa (January - March 2009)
In January 2009 Prof. Ewald Mengel and two members of his team, Michela Borzaga and Karin Orantes, went on a research trip to Cape Town for a few weeks. The goal of the visit was to do literary research at the University of Cape Town and Stellenbosch University, as well as at several of the institutions based in the city, i.e. the Trauma Centre for Survivors of Violence and Torture, the International Center for Transitional Justice, etc.
While in the city, the team conducted a series of interviews with authors and experts from different fields. Among the people interviewed were the writers André Brink, Maxine Case, Sindiwe Magona, Susan Mann, Zoë Wicomb, the eminent historian Neville Alexander, the deputy chairperson of South Africa's Truth and Reconciliation Commission Alex Boraine, the psychologist and TRC Human Rights Violations Committee Member Pumla Gobodo-Madikizela, and many other specialists and scholars.
The laughing ...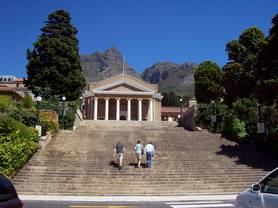 University of Cape Town
© Ewald Mengel
... and the crying face of Cape Town
Institut für Anglistik und Amerikanistik /
Department of English
Universität Wien
Campus d. Universität Wien
Spitalgasse 2-4/Hof 8.3
1090 Wien
Austria

T: +43-1-4277-424 01
F: +43-1-4277-9424